Inauguration of new CEO
We would like to proceed with a Blockchain-based game project together with CEO Shin Jeong-yup with over 20 years of experience.
CEO: SHIN,JY(Executive Producer) –20 years of experience
• Master of Design Science (Digital Media), University of Sydney
• NC soft Project Manager (Lineage 1, Guild Wars, Auto Assault)
• Semologic Korea Game/Video Producer (Sony, Vivendi, EA)
• Smile gate (MNC) Development Director (Fishing King, Mobile Project E)
• Masang soft Development Director (CTO) (Online Game Rebuilding Consulting)
• Ceo of Code Seven
2. Cube Chain App Wallet Launching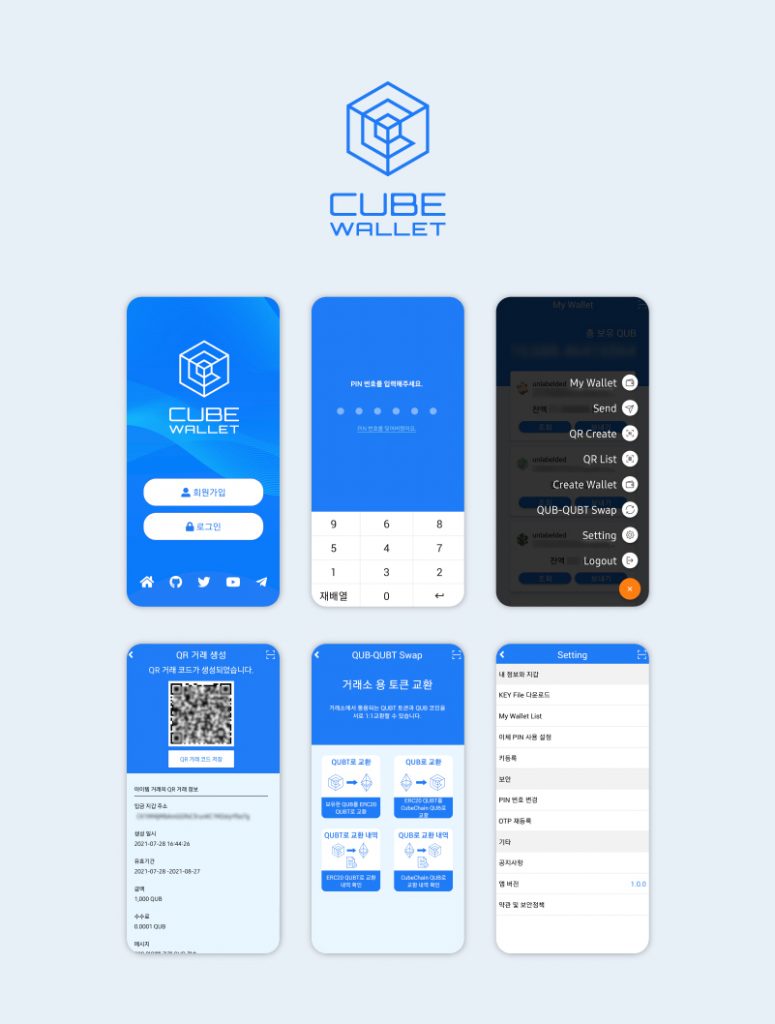 Following the current Cube Chain wallet PC version, the app version will be released. In line with the current game project, we plan to open it so that users can use transactions more quickly and conveniently.
Currently, development is in the final stages, testing is in progress. We will tell you about the representative features that differentiate it from the existing PC version.
After logging in for the first time, if you log in again with the 6-digit PIN number you set, you can log in only with the PIN number.
It is possible to transmit QUB only with a PIN number without a key file or private key. (Details to be announced later)
It is possible to generate and send a QR code containing other contents, such as the receiving address and quantity.
Other details will be announced when it is officially opened.

3. Blockchain Game Project

We would like to present a game project based on blockchain.
The BlockChain-Game Project has now started and it will upgrade our BlockChain contents value.
CubeChain has been preparing for the first BlockChain-game service in the second half of 2021, the sport casual game. Please look forward to Cube Chain's ambitious challenge to combine blockchain and entertainment!
For more information:
Official Site: http://cubechain.io
YouTube: https://www.youtube.com/channel/UCYDEC2HP8oVRXuKsAeUtrLA
Telegram: https://t.me/cubechain
Facebook: https://www.facebook.com/cubechain
Twitter: https://www.twitter.com/cube_chain
Github: https://github.com/cubechainofficial/CubeChain
Medium: https://medium.com/@cubechainio